Het Corso is een optocht met performers, beeldend kunstenaars, theatermakers, dans en muziek. Een lange slinger van aanhangwagens met daarop installaties, muziek en performances, voortgetrokken door tractoren. Met het Kunst Corso vieren we de kunst- en cultuursector van Amsterdam en vragen we aandacht voor een leefbare en betaalbare stad voor iedereen!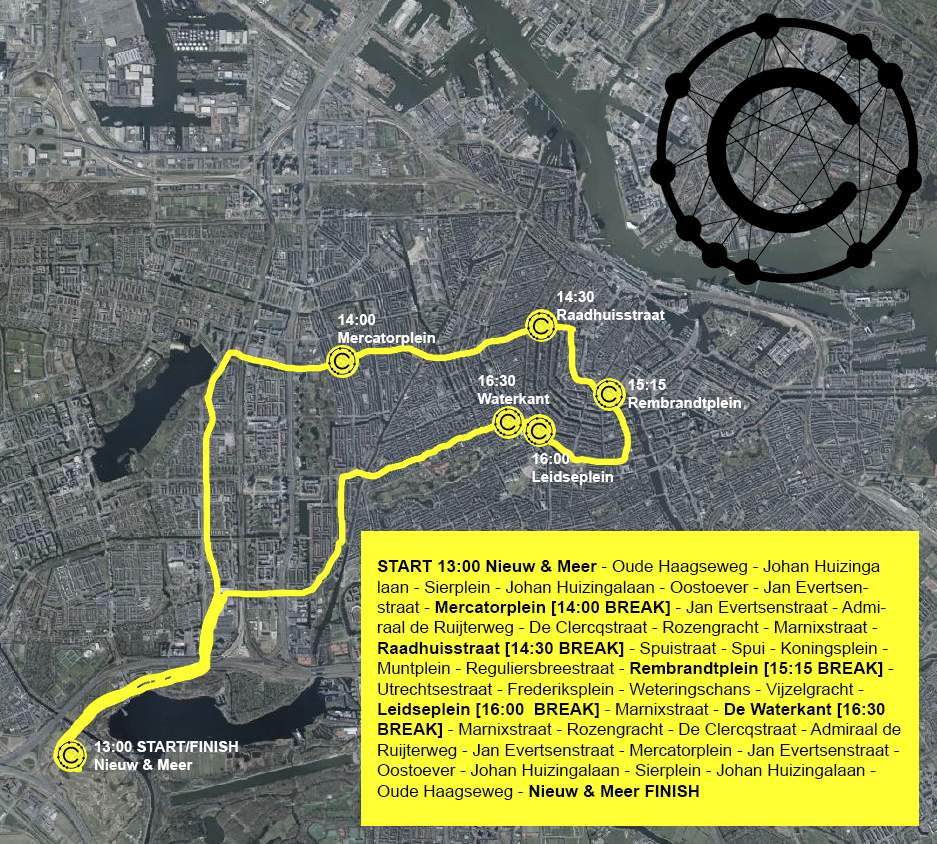 De route vanaf Nieuw en Meer, via het Mercatorplein, door het centrum van de stad [onder voorbehoud]
Naast de twaalf kunstenaars op de wagens deden we een oproep aan alle Amsterdammers, als publiek of als deelnemer, om lopend of op riksja's en bakfietsen aan te sluiten bij de stoet van wagens met een bijdrage, van megalomaan tot speels en ludiek.
Met het Corso stimuleren we solidariteit, verbinding en actiebereidheid in de vorm van een feestelijke manifestatie. Want wat voor stad wil Amsterdam zijn? Hoe leuk is Amsterdam nog als alle ruimte om te spelen en te maken, onbetaalbaar is geworden?
DEELNEMERS/ZWAAN-KLEEF-AAN
Leadbeaters, Una Jongenelis, Oscar Peters en Leon de Bruijne, Alex Winters, Pia Vapeur en Moos Trienen, Suat Ögüt, Teun Castelein, Jippe Liefbroer, Victor Engbers, Ina Smits, Nora Tinholt, Ian Paul de Ruiter en Splitter Splatter, Wall-Russ, Kiki Weerts, Eva Schippers, Caro Bensca, Marc Koolen, Rick & Rudy, Wolf & Paul… en vele anderen.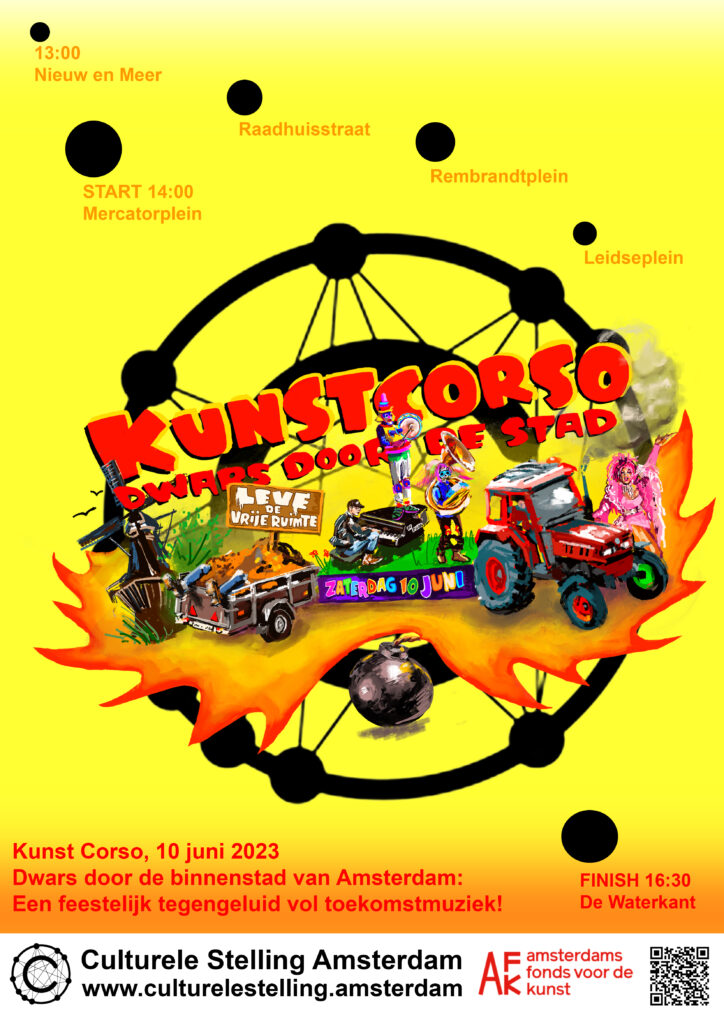 ---
[EN]
Kunst Corso 2023 | saturday June 10th
The Cultural Defense Line of Amsterdam presents the Amsterdam Art Corso for the second time, from studio complex Nieuw en Meer in West, right through the inner city of Amsterdam: a festive opposition full of future music on saturday June 10th!
The Corso is a parade with performers, visual artists, theater makers, dance and music. A long chain of floats with installations, music and performances, pulled by tractors. With the Kunst Corso we celebrate the art and culture sector of Amsterdam and draw attention to a liveable and affordable city for everyone!
This year the Corso will run from studio complex Nieuw en Meer, via Mercatorplein, to the center of the city.
In addition to the twelve artists on the floats, we call on all Amsterdammers, as audience or participants, to join the procession of wagons with a contribution, from megalomaniac to playful, on foot or on rickshaws and cargo bikes. For this we also create 4 boarding places along the route.
Participate? info@culturelestelling.amsterdam
Questions/remarks: Frederique van Rijn info@frederiquevanrijn.com
With the Corso we stimulate solidarity, connection and willingness to take action in the form of a festive manifestation. Because what kind of city does Amsterdam want to be? How livable is Amsterdam when all the space to play and create has become priceless?
The Cultural Defense Line of Amsterdam, consisting of artists, curators, project managers and social entrepreneurs, is committed to cooperation and connection between the cultural buildings of the CSA and beyond.

---