[NL]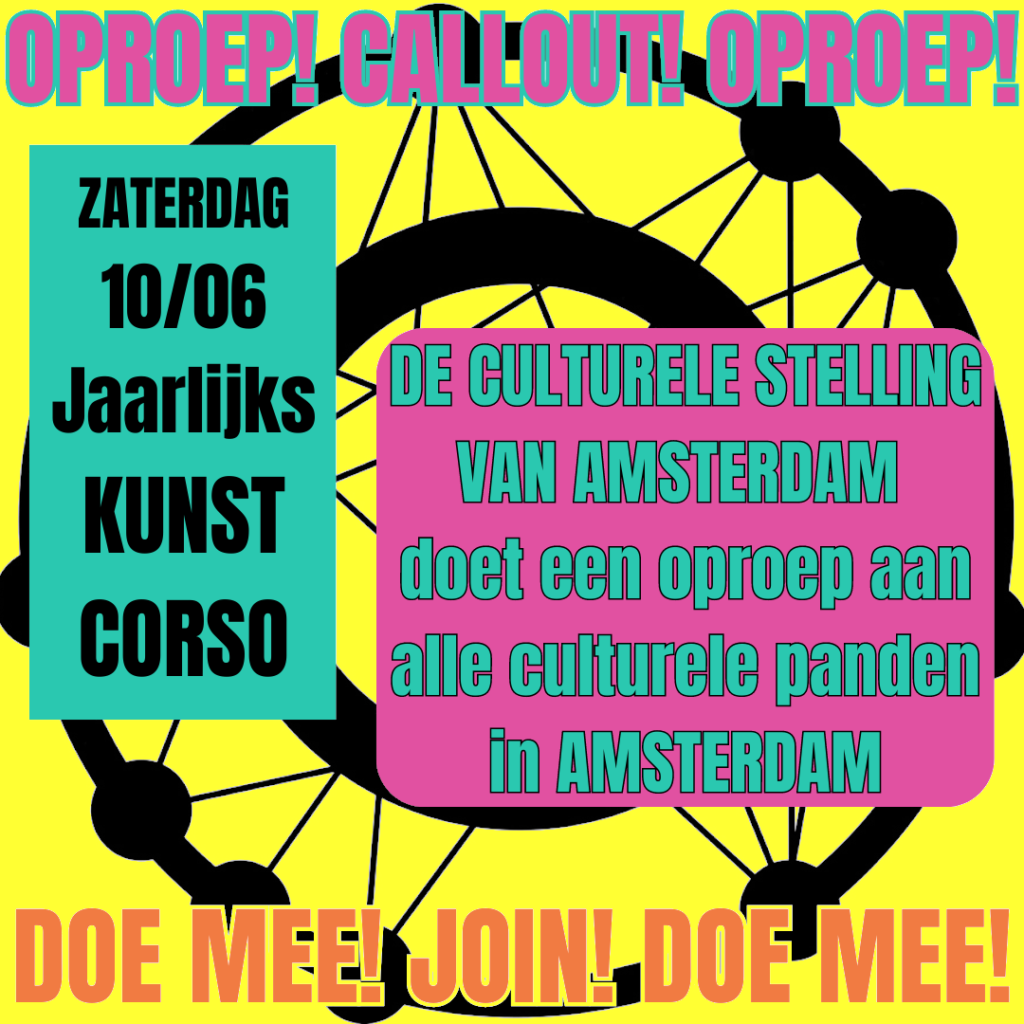 De Culturele Stelling van Amsterdam doet een oproep aan alle culturele panden in Amsterdam:
Op zaterdag 10 juni brengen we een aubade aan de stad met het jaarlijks terugkerende Kunst Corso. Samen maken we ons onbetaalbaar kapitaal zichtbaar met een grote, diverse, kleurrijke, muzikale en bonte stoet van tractors, wagens, fietsen en bakfietsen en voetgangers.
Met het Kunst Corso vieren we de kunst- en cultuursector van Amsterdam! We vragen aandacht voor een stad met meer vrije ruimte voor iedereen. Een kunstmanifestatie en een protest, rijdend door de binnenstad als decor van speculatief gewin en eenzijdige commercie. De Culturele Stelling van Amsterdam zet zich in voor meer samenwerking en verbinding tussen alle individuen in de culturele panden van Amsterdam en ver daarbuiten. Daarom doen we een beroep op jullie allemaal: We kunnen het niet alleen! We vragen alle creatieven van Amsterdam om een grote vuist te maken, sluit je aan bij het Kunst Corso 2023 [route in de bijlage]: op verschillende plekken in Amsterdam organiseren we handige opstappunten. Laat je eigen creaties zien, rijd met een versierde bakfiets mee en laat zien wie je bent!
D O E M E E
Interesse? Laat het ons weten dan kunnen we meedenken en houden we je up-to-date betreft de route, de opstappunten,… de BBQ.
MAIL info@culturelestelling.amsterdam
C A L L O U T [EN]
The Cultural Defense Line of Amsterdam calls out to all cultural buildings in Amsterdam:
On Saturday 10 June we will bring an aubade to the city with the annual Kunst Corso. Together we make our priceless capital visible with a large, diverse, colorful, musical and extravagant procession of tractors, wagons, bicycles, cargo bicycles and pedestrians.
With the Kunst Corso we celebrate the art and culture sector of Amsterdam! We draw attention to a city with more free space for everyone. An art manifestation and a protest, driving through the city as a backdrop of speculative gain and one-sided commerce. The Cultural Defense Line of Amsterdam is committed to more cooperation and connection between all individuals in the cultural buildings of Amsterdam and far beyond. That's why we appeal to all of you: We can't do it alone! We ask all creatives in Amsterdam to make a big fist, join the Art Corso 2023 [route in the attatchment]: we organize convenient boarding points at various places in Amsterdam. Show your own creations, ride a decorated cargo bike and show who you are!
J O I N
Interested? Let us know and we can think with you and keep you up-to-date regarding the route, the boarding points,… the BBQ.
MAIL info@culturelestelling.org
---